Mother's Day is just around the corner, and what better way to show your love and appreciation for your mom than with a personalized, hand-colored card? These Fun Mother's day cards for kids to color are an easy gift for kids to give mom.
I have compiled a list of some of the bet printable Mother's Day cards that you can color and give to your mom as a heartfelt gift. These printables cards include something perfect for kids of all ages.
Whether you're looking for a cute decorated card, a fun questionnaire or a simple design there's a card on this list that's sure to make your mom feel loved and appreciated.
Mother's Day Cards for Kids
Use these printable mother's day coloring cards as a fun homemade gift for kids to give mom and grandma. Not only will kids have fun making the perfect gift they will love seeing mom smile when they give the card to her.
What to Write Inside a Mother's Day Card for Mom
A typical mom card usually includes a special message, a design that reflects mother's, and a personal touch. Whether it's a simple "Happy Mother's Day" or a longer message expressing your love and appreciation, the words you choose make the card special. (And adding a personal touch, like a hand-drawn picture or a special memory, can make the card even more meaningful.)
Here are a few ideas of Mother's Day messages to include inside of the card for Mom:
Write about a special memory.
Write or draw your favorite thing to do with mom.
Write four favorite thing about mom.
Tell about something you're grateful for Mom teaching you.
For little kids: A picture of you and mom together doing something you love.
Don't forget to include happy mothers day somewhere in (or on) the card.
Mother's Day Cards to Color
Instead of giving mom a store-bought card for Mother's Day use these printable coloring mother's day cards and some art supplies to make a handmade card.
These mother's day greeting card printables make a better card last-minute way more than anything you will find at the store.
Getting one of these questionnaires from each of my kids is one of my favorite Mother's day gifts.
Filling out the All About Mom Questionnaire is a fun yearly tradition to start when you kids are young and continue with older kids. Moms will love reading the answers kids give to the questions on this printable.
This printable questionnaire is full page so it can be given on it's own as a card or you can include it inside one of the other printables on this list.
This editable Mother's Day card M is for… Mom, Mama, etc is perfect for kids who want to add their own personal touch to their gift.
The card features a big letter "M" filled with spring designs to color and then space at the bottom to personalize if the M stands for Mom, Mama, Mum or Mommy.
After personalizing the name for mom simply print out the card and let your child's creativity shine as they color and decorate it for their special mom. It's a unique and thoughtful way to show your love and appreciation this Mother's Day.
This adorable handprint card is a perfect way to show your mom how much you love her since they really are "handmade" cards.
Simply use craft paint or stamp ink to make a handprint on the front of the printable card. If you don't want to use paint or ink you could always trace the child's handprint on construction paper and glue it on instead.
You can decorate the card with markers, stickers, or other embellishments to make it extra special. Any mom will love receiving this heartfelt and personalized card for any special day.
This cute little card is just 1/8 of the size of a piece of paper once folded. The My Mom Mother's Day book card is one of my favorite free printables for Mother's Day.
This card is designed to make a little book with 8 pages using only one sheet of paper and one cut with scissors. No stapler, glue or special tools required.
The pages of this book include things for kids to color and draw as well as questions for kids to answer. It's a fun way to create a personalized card for mom.
This butterfly handprint poem card is a little bit different because it's a full sheet of paper instead of one that's folded.
The printable has a butterfly body for kids to color and space to add handprint butterfly wings using paint or ink. Below the butterfly there is a cute and simple little poem.
It's the perfect card for mom to keep as a favorite memory of a child at any age.
This free printable Mother's Day card is an easy mother's day card for younger children to color. It has a simple design with hollow letters for kids to color along with a few flowers and a butterfly.
Print this free card on with your home printer on regular cardstock and fold in half to create the card.
This "Best Mom Ever" card is perfect for showing your mom just how much you appreciate her. The card design is simple with letter outlines you can color and only a little bit of a design to color on the top and bottom of the card.
The inside of the card is blank for you to add your own personal touch by writing a heartfelt message inside.
This card comes in a pack with multiple Mother's Day Cards for Kids to color you can find in the shop.
This flower handprint card and All About Grandma questionnaire is one of my favorite fun ideas for Grandma's on Mother's Day.
This one page card can be folded and kids can draw a picture on the inside or you can keep the page flat and even frame it before giving it to grandma if you want.
This handprint flower poem printable is a great mother's day gift for both mom and grandma. Add a handprint flower and sun to this free printable to give mom on Mother's Day.
This Happy Mother's Day Card is filled with different flowers for kids to color, making it a fun and colorful card once it's done. You can get a pdf file for this card or a full size coloring page with the same design from Where the Smiles Have Been.
I love how this flower activity combines making a flower for mom and a questionnaire into one fabulous moms gift for mothers day.
This printable mother's day activity is a great idea for practicing fine motor skills. Kids will practice cutting, coloring, gluing and writing for kids as they make these homemade cards.
Each of the flower petals on this card has something about mom, it's such a fun craft and one of the most special gifts you can give mom.
Use this printable tangram template and instructions to create a diy mother's day card with different designs then color them to give mom. This card would be a cool mom card for kids of all ages to make.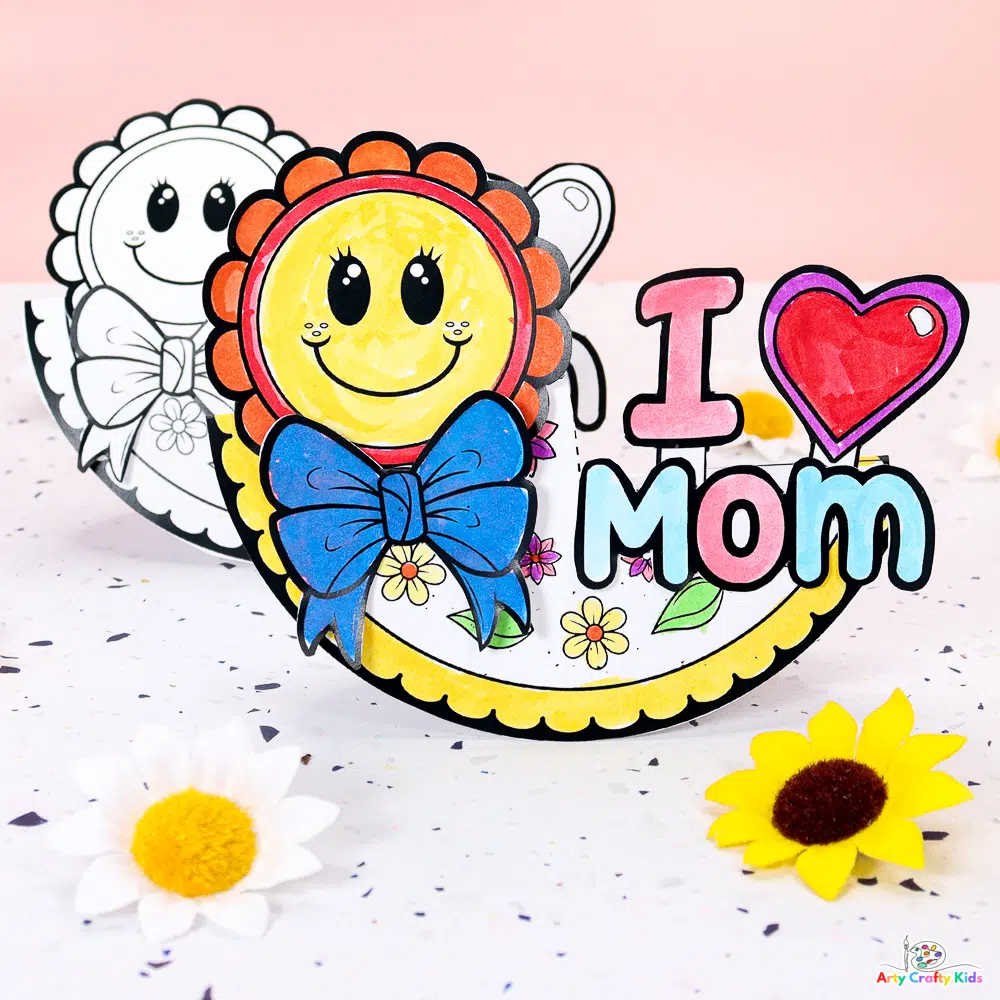 This rocking mom card is one of a kind, it actually rocks (moves)! The printable has cute designs for kids to color and even has a place you can add a picture if you would like.
Use this printable my mama is poem template to write a unique poem about mom. While this isn't technically a printable mothers day card for kids to color they can definitely color a picture on the back of the poem they write.
Pick one of these cool foldable free printable cards to give mom this mothers day. There a few different printable card designs to choose from, pick your favorite and then color, cut on the dotted line and fold the card to give mom.
This I Love You Because Printable card for mom is so fun and different than other mother's day coloring pages.
Along with cute butterflies and flowers to color there is space for kids to color or write things they love about mom. Younger kids might need a little help knowing what to put in each heart.
While a color by number may not be the first thing you think of when trying to find a Mother's Day card these color by number pages make colorful cards for kids to make and give to mom.
Instead of a traditional mother's day card use crayons, markers or colored pencils to color these fun Mother's Day Bookmarks. There are several different designs to choose from.
Give the bookmark to mom instead of a card, it would go along perfectly with the gift of a new book.
Use this free printable card to make a Pop Up Heart card perfect for mom. Plus the heart is covered in flowers for kids to color a mother's day bouquet for mom.
This free printable card for Grandma can be made on half a sheet of paper or a full sheet.
The kids will have so much fun using paint to put their handprint on this card for Grandma. Once the painted handprint has dried they can decorate the card with drawings and messages for Grandma.
With so many fun easy mother's day cards to choose from making a homemade mother's day card doesn't have to be hard. I hope you have fun creating memories and making a beautiful card for mom this mother's day.